Book Two in the Sime~Gen Universe.
By Jacqueline Lichtenberg
In a time much like that of early twentieth-century Earth, Digen Farris, Head of the legendary House of Zeor and a Sime healer, goes into Gen Territory to become a doctor by Gen law. He falls in love with a Gen woman who is not at all what she seems. Ultimately, he must choose between his Sime heritage and his Gen love--a choice that will shape humanity's future destiny. Publishers Weekly says: "House of Zeor created a fervent cult. This second novel of the mutated Simes and their symbiotic-vampire relationship will be welcomed." Winner of the Galaxy Award.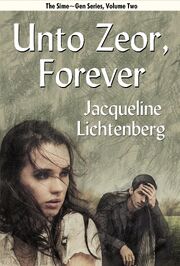 NOTE --- There is also an earlier release of Unto Zeor, Forever in hardback from Doubleday in 1978.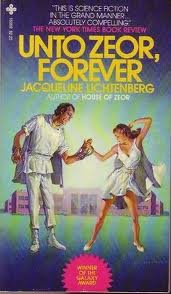 Cast list
Sime ---
Digen Farris:  Head of Householding Zeor, great-great-grandson of Klyd Farris.
Rindaleo Hayashi: The man who can save the Tecton, but only with Digen's help.
Jesse Elkar:  An old friend of Digen's.
Skip Cudney/Ozik: A fifteen-year-old boy, born among Simes but raised by Gens.
Mora Dyen:  She intends to marry Imrahan, but wants to bear a Farris child first.
Controller Mickland
:  The channel elected by the city and district of Westfield to be responsible for the smooth functioning of the Tecton's selyn delivery system.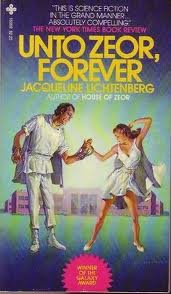 Gen ---
Tchervain Rholle:   A trained Donor.
Ilyana Dumas:  Raised to despise and condemn the Tecton and the householders, Ilyana finds herself dependent on Digen Farris for her life and sanity.
Joel Hogan: In spite of being both fascinated and repelled by Simes, Hogan volunteers to room with Digen.
Imrahan ambrov Imil:  This Gen wants to become a member of Householding Zeor.
Dane Rizdel:  A First Order Donor Qualified by Mora and Digen.
Ditana Amanso:  She proves to be Digen's nemesis.
Dr. Reginald Thornton:  Chief of Surgery at the Gen hospital.
Community content is available under
CC-BY-SA
unless otherwise noted.