Book Six of the Sime Gen Universe
By Jacqueline Lichtenberg
An explosive election campaign sets off a dangerous crisis in the strange world of the
Simes
and
Gens
.
Laneff Farris
grew up believing that she had not inherited any of the special talents or strengths of the
Farris family mutation
. But a storm of politics sweeps her into an underworld where the line between Science and Magic blurs. Which of two men should she follow? Or should she forge a completely new direction, and take the rest of humanity with her?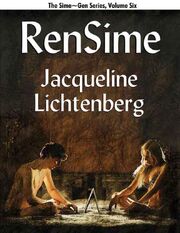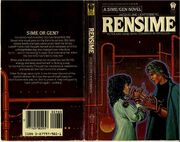 Cast
Azevedo - A "gypsy" channel from Rathor who attended the funeral of Digen Ryan Farris.
Becket - Living with the Distect and asked to set the dogs on watch.
Bianka - Bianka tested Laneff so she could be paired with a Gen.
Callen - An elderly Sime who greeted Yuan and Laneff when they landed the stolen helicopter.
Desha - A very young Gypsy woman.
Fay Ravitch - A childhood friend of Laneff.
Jarmi - A young Distect Gen who wants to be a transfer mate.
Laneff Farris ambrov Sat'htine - A Farris renSime, and was believed to be a potential Donor based on her Prenatal Selyn Draw.
Milins - The neighbor family to the Ravitch Family.
Nen - Bianka's Companion (Donor), in Yuan's underground Distect.
Odeah Polk - A Diet copter pilot.
Shanlun – Trained Companion
Tansy Farris - The daughter of Laneff and Shanlun.
Tanya - A friend of Jarmi.
Thereda - A woman who Laneff met when she was taken to the Distect.
Yuan Sirat Tiernan - First Order Donor in the Tecton's scale, and Sosectu in Rior in the Distect.
Community content is available under
CC-BY-SA
unless otherwise noted.