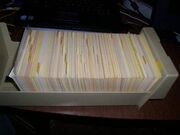 The index card files sourced on the Sime~Gen pages are the basis for this  wiki. They were kept by Katie Filipowicz as the books were being written with the intention of creating a Concordance for Sime~Gen.  At that time, Katie was a neighbor of Jacqueline Lichtenberg and spent part of almost every day at Jacqueline's house asking questions about Sime~Gen.
The carded information traces the thinking behind the story development as it was being done, recorded from casual conversations, which is why the carded information is noted.  The carded information also notes which book/story where the information was revealed, or developed to explain.  
The information sourced in the index cards explains and illuminates the underpinnings of the Sime~Gen Universe and the unpublished philosophy behind the creation of that universe often beyond what one might find in a Concordance because many live discussions included proposed novels that never were written.  Some details may develop further as Jacqueline Lichtenberg and Jean Lorrah continue to create the background. 
The information on these cards covers much of the first eight books, and is world-building and character developing material that was the original backbone of Sime~Gen. You are reading items that were discussed with Jean Lorrah, Jacqueline Lichtenberg, Katie Filipowicz and others many years ago, long before computers were commonly available, in phone conversations and convention parties and panels.
Each card may contain one fact.  Karen MacLeod has photographed the box of Katie's cards without its cover. Most cards are written on both sides in Katie's small, clear handwriting.  Anything that is noted as coming from the index card file comes from this box, and Karen's typing the information into the wiki.  Each card is 4 inches by 6 inches in size. There are sometimes many cards on one topic.  There are 10 cards on "channels" alone, as an example
The Sime~Gen Wiki was established by Aharon Cagle. Pages and information added by Zoe Farris, and Index Card and other sources, edited by Karen MacLeod, including updated input, suggestions and additions by Jacqueline Lichtenberg and Jean Lorrah.
Jacqueline commented:   "And the card file doesn't cover all the books!  Not even the first 8.  Katie lived near me and we talked and she got carbons of stuff I wrote some of which ended up in zines."
Unfortunately, what we have not been able to include are pages and pages of typed or duplicated letter correspondence between the fans and authors, which also may have led to story development.  Some of those documents which Katie had access to have been lost over the years though the card file miraculously survived in Karen's keeping. 
NOTE: during those years when correspondence was "lost," literally hundreds of people have contributed to this Universe, dozens have written extensively in fiction and non-fiction modes.  "The Fans" is shorthand for creative participants.  For example, the term "larity" was invented by "the fans" discussing Sime~Gen on a Listserv before the Facebook Group Zoe Farris started. 
Community content is available under
CC-BY-SA
unless otherwise noted.