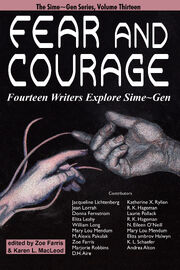 Fear and Courage: Fourteen Writers Explore Sime~Gen (#13 2015)
Book Thirteen of the Sime~Gen Universe.
Editors Zoe Farris and Karen. L. MacLeod 

An Anthology of Short Stories set in the Sime~Gen Universe written by people inspired by Sime~Gen to write original stories with original characters, locations and situations. These stories explore the lives of ordinary people caught up in extraordinary situations

"The saga of humanity's destiny.  Following a cataclysm, humanity has been divided into two mutant forms: Simes and the Gens.  The Gens consider themselves to be the true humans, with little outward change, but their bodies produce selyn, an energy that Simes can't live without.  Sime do not produce selyn but Need it to live.  The only way to get selyn is from the Gens, resulting in death to the Gen."

Fear and Courage, and other new or reprinted works in the Sime~Gen Saga, and other related works by Jacqueline Lichtenberg and Jean Lorrah, can be found at  www.simegen.com and follow the links.
The light, childlike voice came from the road, not six feet away from his hiding spot. He peered through the stalks and made out the form of a girl—no, a woman, he corrected himself as he saw her tentacles. From: Moonlight Sonata by Mary Lou Mendum

Stories and their authors:
Moonlight Sonata — Mary Lou Mendum
A Mother's Choice — Donna Fernstrom
Obsession — Eliza Leahy
How Far Must I Go? — William Long
A Journey Into Demonland — Mary Lou Mendum, and M. Alexis Pakulak
The Legend of The Creeping Need — Zoe Farris
Be Not Afraid — Marjorie Robbins
Running on Selyn Alone — D.H. Aire
Blood Taint — Katherine X. Rylien
More Than Meets the Eye — R. K. Hageman
The Box — Laurie Pollack
Prelude and Fugue in Four Choices from the Ill-Tempered Cavalier — Mary Lou Mendum
Shadows — Zoe Farris
Vincent of the Gate — R.K. Hageman
Destiny — N. Eileen O'Neill
Three Milestones in the Founding of Cordona — Mary Lou Mendum
A Short Life — Eliza Leahy
Controller's Dilemma — Marjorie Robbins and K. L. Schaefer
The Gift of Alauno Light — Andrea Alton

Sime~Gen novels published by Wildside Press LLC www.wildsidebooks.com